Nigerians youths are beginning to appreciate Nigeria-made fabrics and attire more today than in the 80's when they were more interested in western fabrics and attires.
Back in the days, young men and women usually preferred suits, T-shirt and short sleeve for office and also for birthday parties and weddings. For beach parties or picnic, a simple short sleeve with palm tree design or pictures were usually worn for such recreation – and they were usually made from western fabrics.
But times have changed and public perception and appreciation of African attires have improved both locally and internationally. In the late 90s and early 2000s, there were adverts from government and Nigeria-made fabric producers, which encouraged Nigerians to embrace locally-made fabrics.
Nigerian fashion designers have helped to showcase Nigerian fabrics and attires through their many beautiful designs in-country and at international fashion shows, consequently increasing the love for Ankara, Lace, Satin, Apoche and Aso Oke by Nigerians in other countries who are always proud to dress in local taste even when outside the country.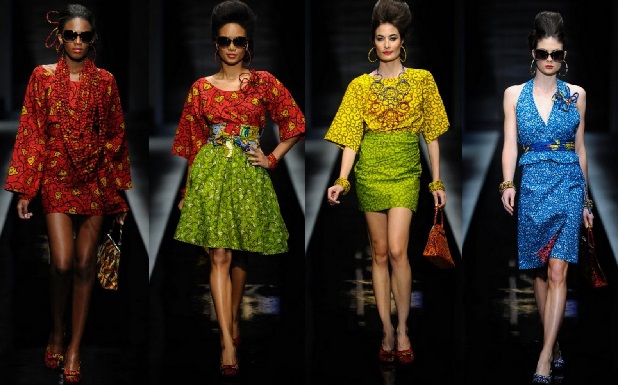 Today, Nigerian ceremonial parties, such as weddings, birthdays and wedding anniversaries, are usually adorned with different beautiful styles by both men and women, young and old.
Aso Ebi, which is usually encouraged by families of both the bride and groom for friends and relatives, adds colour and glamour to wedding ceremonies. Various styles sewn with Nigerian fabrics include skirt and blouse, gown, blouse and rapper for women; while suit, short and long-sleeve shirts and trousers go for men mostly made with Ankara. Some times, some pieces of lace are added to women's dresses to further beautify them.
It has become customary for staff of some companies to wear African attires to office on Fridays, as a matter or office policy. Other staff wear Nigerian attire to work on Mondays and at other working days of the week in some companies where simple dress styles are allowed, and this usually looks beautiful – although not banks and other companies that emphases strict corporate wears from Monday to Thursday.
The increase in public appreciation of Nigerian fabrics and attires has led to increase in their sales and also helped to provide employment for young men and women who engage in tailoring.
Nigerians should be proud of their own fabrics and attires. This why Nigerian leaders should encourage citizens to appreciate and patronise locally-made fabrics and attires by leading the way. Most government official wear locally-made attires; and this should continue!
Copyright 2020 TheCable. All rights reserved. This material, and other digital content on this website, may not be reproduced, published, broadcast, rewritten or redistributed in whole or in part without prior express written permission from TheCable.
Follow us on twitter
@Thecablestyle