Bright Okpocha, Nigerian comedian known to fans as Basketmouth, has blamed Goodluck Jonathan, former president, for the economic problems bedevilling  the country.
In a recent post on his Instagram page, Basketmouth also made it clear that he did not campaign for Muhammadu Buhari, the All Progressives Congress (APC) presidential candidate, during the last general election.
He further noted that despite not performing his civic duty, he was ready to vote for any other candidate but Jonathan in the presidential election.
"While many of my colleagues, friends and family members campaigned for the PDP, APC and various candidates during the last elections (and I cannot emphasize enough that it is their right to do so), I never campaigned for Buhari or any other politician.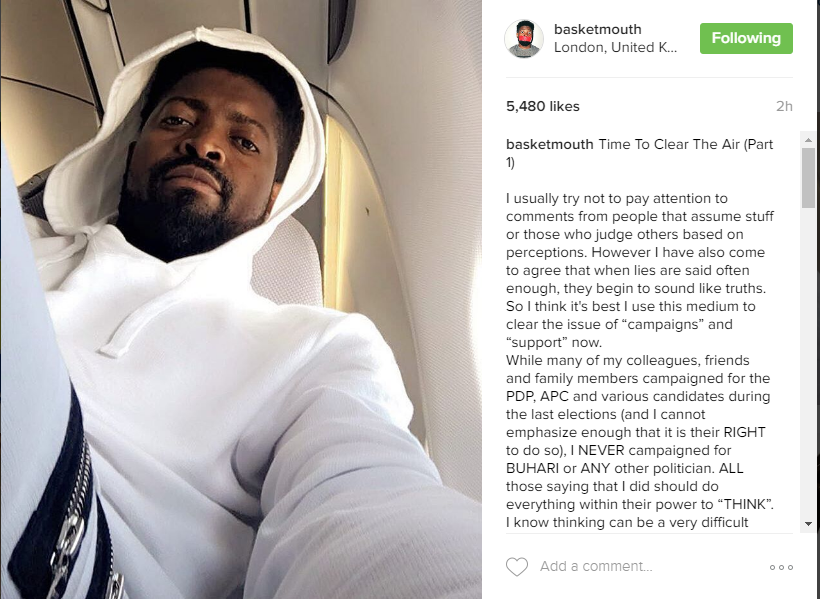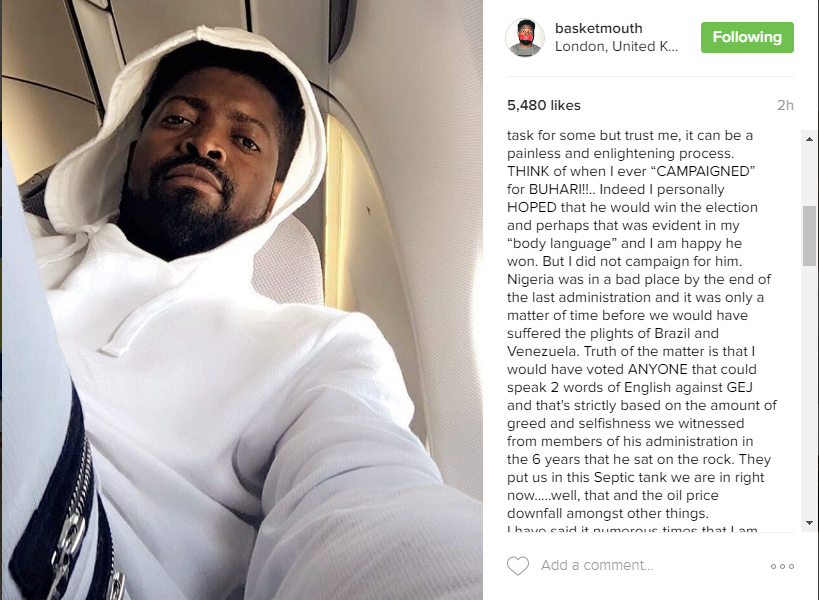 "Indeed, I personally hoped that he would win the election and perhaps that was evident in my body language and I am happy he won. But I did not campaign for him.
"Nigeria was in a bad place by the end of the last administration and it was only a matter of time before we would have suffered the plights of Brazil and Venezuela.
"Truth of the matter is that I would have voted anyone that could speak 2 words of English against GEJ and that's strictly based on the amount of greed and selfishness we witnessed from members of his administration in the 6 years that he sat on the rock.
"They put us in this septic tank we are in right now…. well, that and the oil price downfall among other things."
The comic also expressed hope in the ability of the Buhari-led administration to turn around the state of Nigeria's economy.
"I have seen how government can influence and affect the lives of the downtrodden positively. I am still patient, praying and hoping that PMB can turn Nigeria's economy around and help strengthen Nigeria's social justice system.
"Should he and his party fail, we are all free to cast our votes for the next man come 2019 and I shall be exercising that right."
Copyright 2023 TheCable. All rights reserved. This material, and other digital content on this website, may not be reproduced, published, broadcast, rewritten or redistributed in whole or in part without prior express written permission from TheCable.
Follow us on twitter
@Thecablestyle