Should the revered media practitioner, the late Levi Ajuonuma, take a look down on earth from the afterlife, he'd have nothing but joy.
A product of his loins, DJ Obi, after 200 hours of ceaseless music rotation, vigour and a rigid determination, made history on Friday morning.
By 7.30am, the disc-jockey outdid the 200-hour-Guinness world record for the longest marathon club DJ-ing — set by Polish DJ, Norberto Loco in 2011.
While he embarks on the ultimate feat of 240 hours of non-stop music, we take a look at others of his kind — history makers, record breakers – Nigerians, who are presently featured in the Guinness Book of World Records.
Greatest distance travelled with a football balanced on the head
Perhaps, many would have labelled him insane, when Nigerian footballer based in Cambodia, Harrison Chinedu, balanced a football on his head and journeyed on foot from the RCCG Redemption Camp to National Stadium Surulere, Lagos.
As he neared his final destination, Chinedu was swarmed by fans on Sunday, March 6, when he completed a distance of over 48.04 km (29.85 miles) – breaking a record set in 2014 by Indian soldier NaibSubedar Azad Singh.
Upon arrival at the National Stadium, he trekked round the main bowl eleven times to break the record and a further eleven times to set a new record.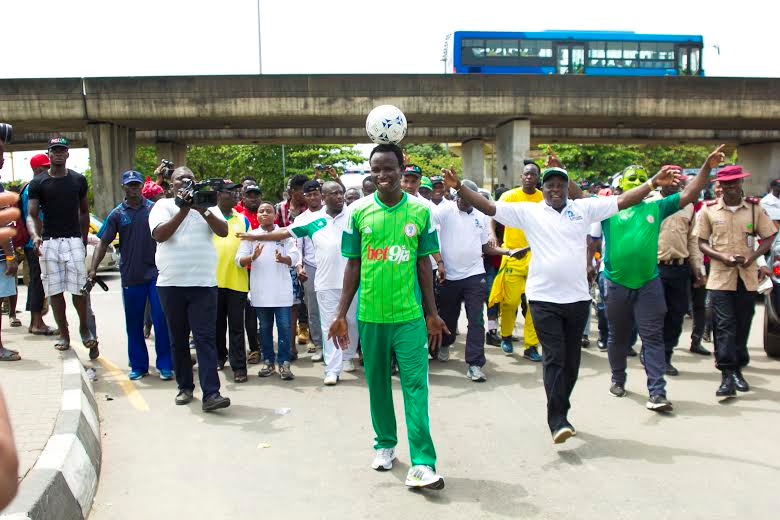 Not even a muscle strain scare at Berger Bus Stop, around Ojodu, could deter him from achieving his objective.
According to the Guinness World Records, "The record attempt lasted 7 hours and 5 minutes."
Largest group of carol singers record
Christmas Day 2014 will remain perpetually special for the folks of Akwa Ibom state.
On that historic day, a 25, 272 member choir sang out their lungs at the Uyo Township Stadium in Akwa Ibom- to set a new record for the largest group of carol singers.
Singing popular Christmas Carols such as – The First Noel, Joy To The World, O Christmas Tree, Hark The Herald Sing, Once In Royal Davids City and O Come All Ye Faithful – the Akwa Ibom choir beat the 2013 record of a Colombian choir of 15,674 carol singers known as CENTI.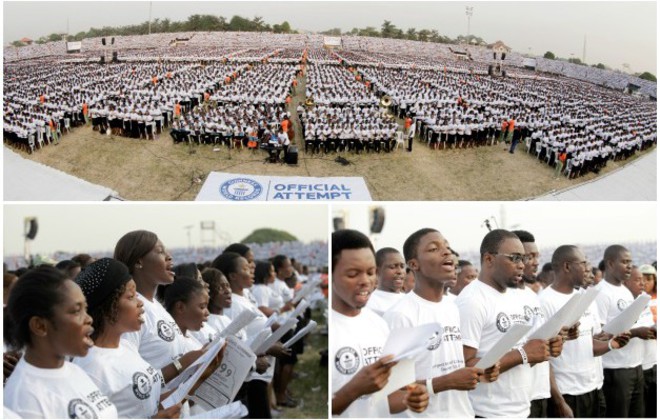 Most people crocheting simultaneously
First, what is crocheting?
According to the Merriam Webster dictionary, 'crochet' is a method of making cloth or clothing by using a needle with a hook at the end to form and weave loops in a thread,
In April 2015, undergraduates of the Atiku Abubakar-owned American University of Yola recorded the feat of 'most people crocheting simultaneously'.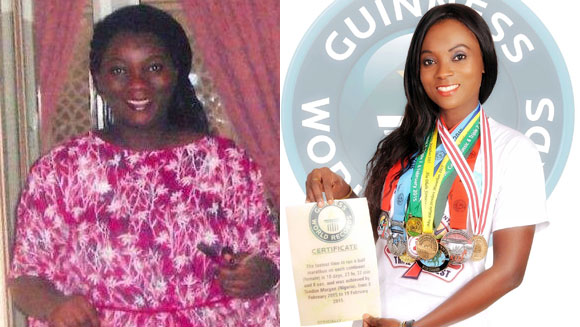 To achieve this record, 485 people crocheted simultaneously.
Most people washing their hands
37, 809 Nigerian schoolgirls and boys earned Nigeria this record, at an event organised by Lifebuoy and the Federal Government.
To achieve the most people washing their hands record, thousands gathered at TBS Onikan in Lagos, Nigeria on 14 October 2011.
The effort was not only carried out for the purpose of breaking a record – but also to "encourage children to wash their hands with soap and water to defeat diarrhea".
According to the Guinness Book of World Records, the attempt was coordinated by Ecole de Dessin.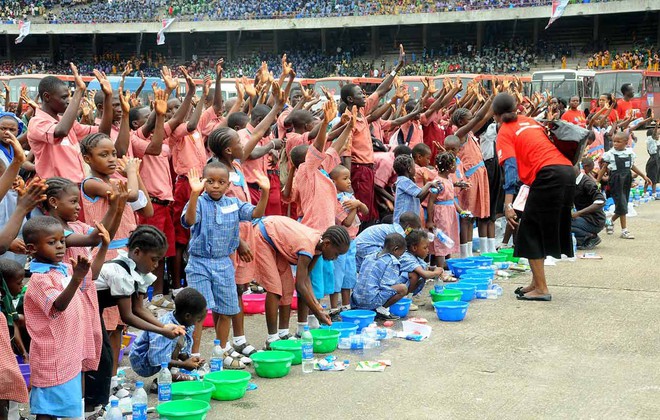 Fastest time to run a marathon on each continent
Tuedon "Tee" Omatsola Morgan went from an unfit 121 kg to being a Guinness World Record holder.
Morgan's feat is as impressive as inspiring – after earning the title for the Fastest time to run a half marathon on each continent and the North Pole, by completing seven races in an astonishing time of 62 days 12 hr 58 min 49 sec.
When asked what motivated her to carry out the feat, 42-year-old Morgan quipped, "When I was a child, my parents bought every copy of the Guinness World Records that was published. I remember saying to myself that one day that will be me. But as I got older and started fighting with my weight, I felt my dreams were far-fetched. That was until I met Ziyad Rahim (Pakistan) who is now a multiple Guinness World Records title for his marathon running – this record was his idea."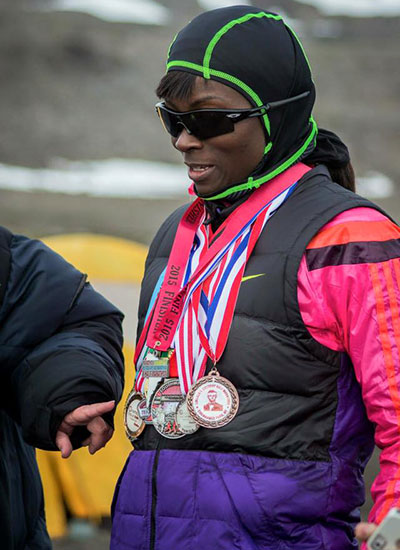 To achieve the extraordinary, Morgan finished the Carlton Classic Half Marathon (Australia), Abu Dhabi Striders Half Marathon (Asia), Torcy International Half Marathon (Europe), The Carthage Race Half Marathon (Africa), Lincoln's Birthday Half Marathon (North America), Southern Cross Half Marathon (South America), and Penguin Half Marathon (Antarctica).
Largest board game, Ludo
Nigerians love a wide array of board games and Ludo is one which is popular and widely played.
Hence, it was only right that the largest board game will be achieved in the largest black nation in the world.
The largest Ludo board game – measuring 9.65 m (31 ft 7 in) long and 9.65 m (31 ft 7 in) wide – was created by Adesoye College Offa on 3 July 2012.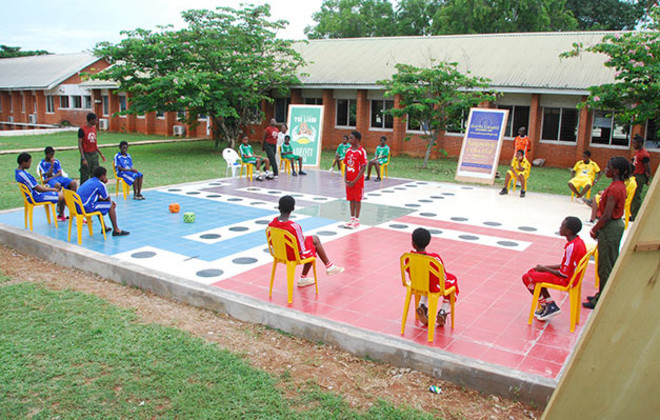 Largest internet cafe
According to Internet Live Stats, there are 86,219,965 Internet Users in Nigeria as at 2016 – and as a result of the poverty level in the country, it is safe to say that a huge fraction of that figure would possibly lack personal computers.
How then do they surf the internet?
Internet cafes, of course.
Back in November 2008, Nigeria entered the Guinness Book of World Records with the largest Internet café in the world.
Located at ChamsCity Digital Mall with facilities in Lagos and Abuja, the internet cafes each offers 1,027 computer terminals.
Both facilities in Lagos and Abuja are joint holders of the record as they have the same number of terminals.
Most chartered accountants in one family
When a family has six Chartered Accountants, it's safe to say their books would never be out of order.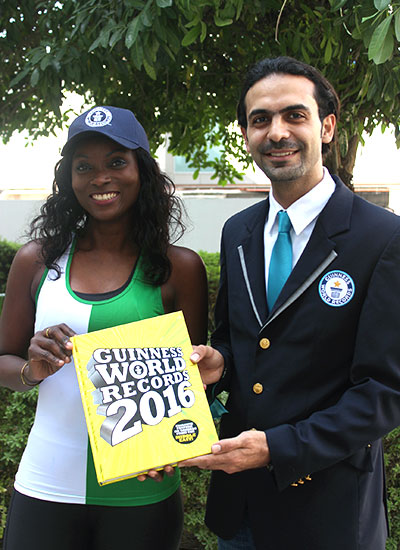 The Dafinone family of Lagos made it into the Guinness records book by having the 'most chartered accountants in one family'.
Three sons, two daughters and their father, Senator David Omueya Dafinone are all qualified members of the Institute of Chartered Accountants in England and Wales.
Igho Omueya Dafinone, Ede Omueya Dafinone and Duvie Omueya Dafinone – currently work with the family firm, D O Dafinone & Co. Chartered Accontants.
Longest home unbeaten streak by a Nigerian Premier League team
One of the marquee teams of the Nigerian Premier League, Kano Pillars F.C achieved this incredible feat.
From June 2003 when Kano Pillars beat Julius Berger (now Bridge FC), they failed to lose at home for 12 years, 63 days.
The unbelievable run was cut short by Nasarawa United who defeated them on August 23, 2015 at the Sani Abacha Stadium, in Kano.
Youngest person to win the Africa Cup of Nations as a player and coach
Former Nigerian coach, Stephen Keshi may be gone but his name lives on – not only in the hearts and on the lips of Nigerians, but also in the Guinness Book of World Records.
After winning Nigeria its third Africa Cup of Nations in February 2013, Keshi became the youngest person to win as a player and coach.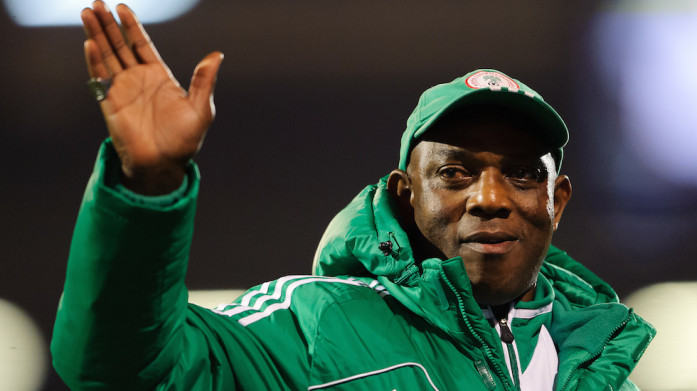 He was 52 years and 10 days old when he won the tournament as head coach of Nigeria at the FNB Stadium, Johannesburg, South Africa – decades after captaining the Nigeria national team to win the tournament as a player in 1994, beating Zambia 2-1 in the final.
Copyright 2022 TheCable. All rights reserved. This material, and other digital content on this website, may not be reproduced, published, broadcast, rewritten or redistributed in whole or in part without prior express written permission from TheCable.
Follow us on twitter
@Thecablestyle