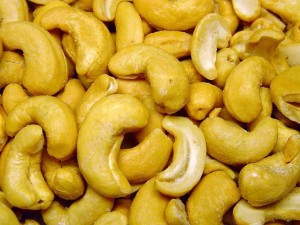 Cashew nuts, groundnuts and walnuts are very useful in preventing certain cancers.
Indeed, the Omega-3 fatty acids, polyphenols and antioxidants in walnuts work together to stop the development and growth of breast cancer cells.
Jummai Hassan, who specialises in nutrition at the Wuse General Hospital, highlighted these encouraging facts in interview with NAN.
She said walnuts contain multiple ingredients, which research revealed, slow the growth of cancer and strengthen and improve hair growth.
She said the copper contents in cashew nuts helped to fight against cancerous cells, which prevent colon cancer.
Hassan said cashew nuts contained magnesium which helps to lower high blood pressure.
"Like calcium, magnesium is also important for bone health which is the main content in cashew nut," she said.
Groundnuts, also known as peanuts, contain health benefiting nutrients, minerals, antioxidants and vitamins which were essential for optimum health.
"Peanuts are a rich source of minerals such as copper, manganese, potassium, calcium, iron, magnesium, zinc and selenium," she said.
Peanuts contain antioxidant called Resveratrol, which has protective agents against cancers, heart disease and Alzheimer's diseases.
Resveratrol also protected people against degenerative nerve disease, viral and fungal infections.
The nutritionist, however, said peanut caused allergic reaction is some people, especially children.
"Peanut allergy can cause a severe, potentially fatal allergic reaction, to prevent a reaction strict avoidance of peanut and peanut product is essential," she cautioned.
Copyright 2021 TheCable. All rights reserved. This material, and other digital content on this website, may not be reproduced, published, broadcast, rewritten or redistributed in whole or in part without prior express written permission from TheCable.
Follow us on twitter
@Thecablestyle