Hajaratu Gwani, mother of 15-year-old Deborah Stephen, who was shot by armed robbers last week, is still full of gratitude to President Muhammadu Buhari for settling her daughter's medical bills.
While visiting victims of the Abuja bomb blasts at the national hospital on Sunday, Buhari had heard the cry for help of the grieving mother and decided offset the patient's medical bills, totalling N268, 790.
Speaking to TheCable through her sister Gladys Gwani, who translated her Hausa to English, Hajaratu narrated how her daughter was shot by armed robbers at her home at Nyanya Gwandara, Masaka, near Abuja.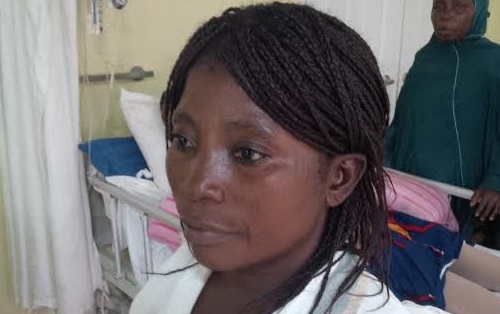 "At night, about 2am we heard sporadic gunshots. The robbers came to our door and knocked pensively, asking us to open the door. I opened door, and they rushed in demanding that we bring the money in our possession," she said.
"The robbers went into the room where Deborah was sleeping and demanded that the door be opened. At this time, we were already lying face down on the floor. They broke down the door after no response; because Deborah was sleeping and the light was turned off, they shot her on the torso.
"We did not notice that she was shot, but after a while when she cried out we begged the robbers to allow us take her to hospital, but they decided to use us as a shield in their operation for the night. Afterwards, they let us go. We went to the medical centre at Mararaba, but owing to the severity of the case ,we were referred to the national hospital."
Deborah, bearing a blood-stained bandage, was seen sleeping at the time TheCable reached her mother.
Copyright 2020 TheCable. All rights reserved. This material, and other digital content on this website, may not be reproduced, published, broadcast, rewritten or redistributed in whole or in part without prior express written permission from TheCable.
Follow us on twitter
@Thecablestyle