Nigerians value access to health care over other social and economic needs such as housing and income, a survey conducted by the Organisation for Economic Cooperation (OECD) has shown.

According to Independent, the OECD, which promotes policies that will improve the social well-being of people around the word, had since 2011, been conducting a survey called Better Life Initiative and has received over 60,000 responses from over 180 countries.
The result, called the Better Life Index, allows viewers compare well-being across countries based on the 11 topics identified by the OECD as essential in the areas of material living conditions and quality of life.
In Africa, countries like Nigeria, Niger, CAR, Cameroon, Gabon, Namibia, Mozambique and Sierra Leone chose health as their top priority.
Ghana, Ivory Coast, Mauritania, Congo and Malawi were the only African countries that prioritised safety in their quality of life.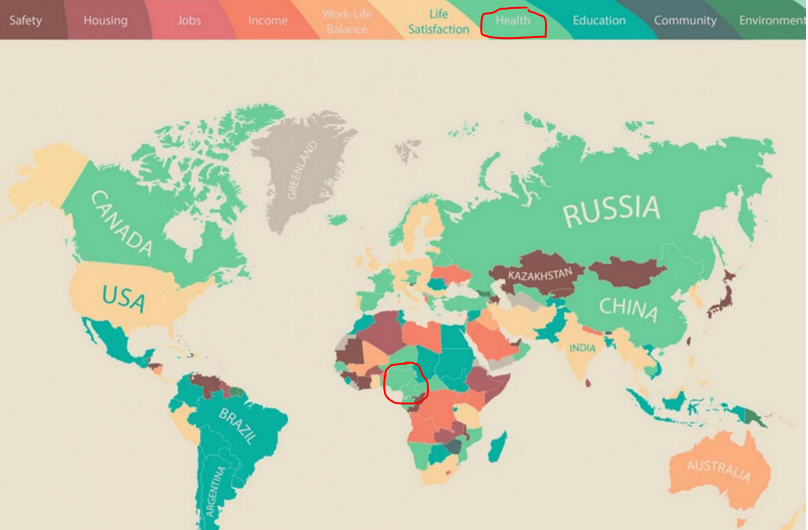 The topics were:
1. Safety
2. Housing
3. Jobs
4. Income
5. Work-life balance
6. Life satisfaction
8. Health
9. Education
10. Governance
11. Community
12. Environment
China, the most populous nation in the world, chose health as compared to the second and third most populous nation (India and USA), who both valued life satisfaction most.
Map credit: MoveHub.com
Copyright 2023 TheCable. All rights reserved. This material, and other digital content on this website, may not be reproduced, published, broadcast, rewritten or redistributed in whole or in part without prior express written permission from TheCable.
Follow us on twitter
@Thecablestyle