Last week's communal clash in Mile 12 between the Yoruba and the Hausa left in its wake many haunting shadows of untold stories of raided churches, cemetery disagreements, and inhumane acts against children.
Peace may have returned to Mile 12, a popular Lagos suburb, best known for its commercial activities and sales of food stuff. However, the bloody clash, which temporarily reduced the community to a heavily-guarded "war zone", left many homeless, jobless and perhaps hopeless.
When TheCable visited over the weekend and earlier in the week, those directly affected by the acts of the "outlaws" went beyond narrating their ordeals to sharing their fears, distrust and apprehension for the days ahead.
THE GENESIS
Christopher Chukwudi, a 28-year-old dry cleaner who was deeply involved in quelling the anger of the parties due to his popularity among them, said both parties were to blame for the evil that befell the community.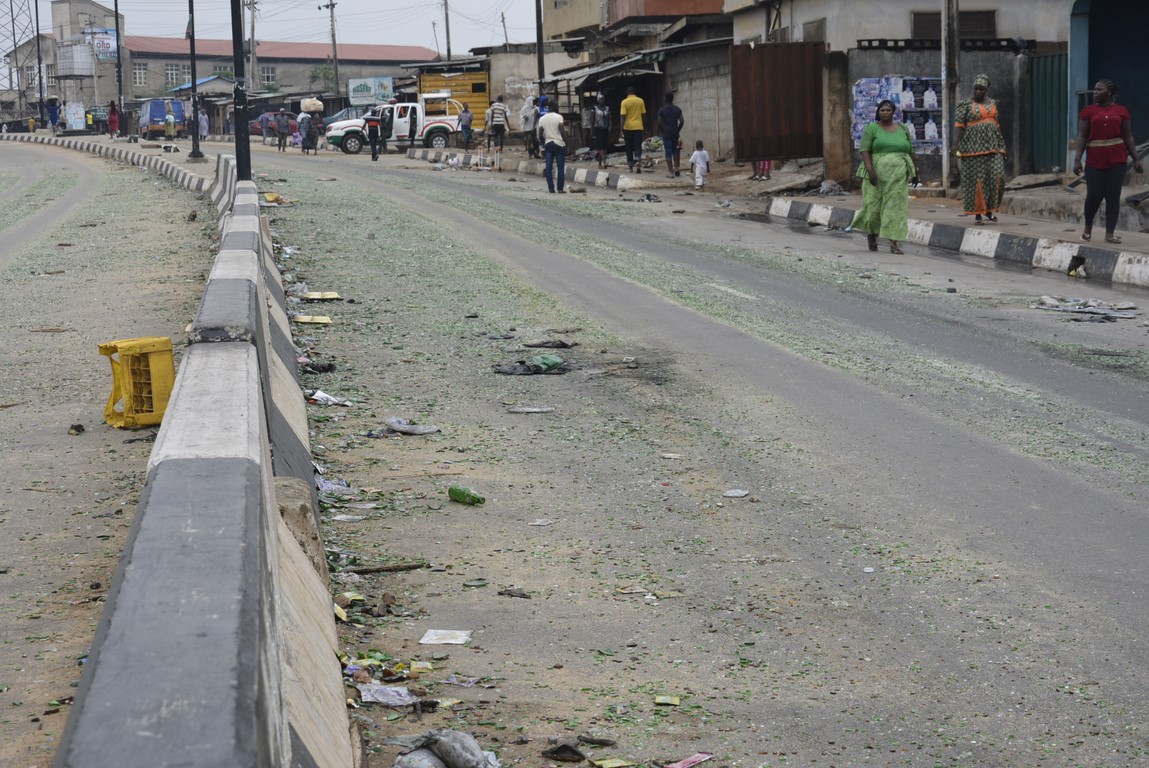 "It is true that a Hausa motorcyclist took 'one-way' at night, and hit a pregnant woman without any care for her and her unborn," he said.
"We have been complaining for ages that they stop taking driving against traffic but they won't just listen; they love the shorter cut. This led to more problems. The Yoruba attacked the Hausa and this resulted in the death of three Hausa.
"We thought that was the end of the trouble until the Hausa people asked to bury the bodies in the cemetery opposite this school [Allen High School, Agiliti].
THE DEAD WERE NOT ALLOWED TO REST
Chukwudi said the Yorubas refused by all means, asking the Hausas to take their dead anywhere else.
"The Hausas had to take their dead bodies away. We don't know where they were eventually buried, but some people say there are dead bodies in the river.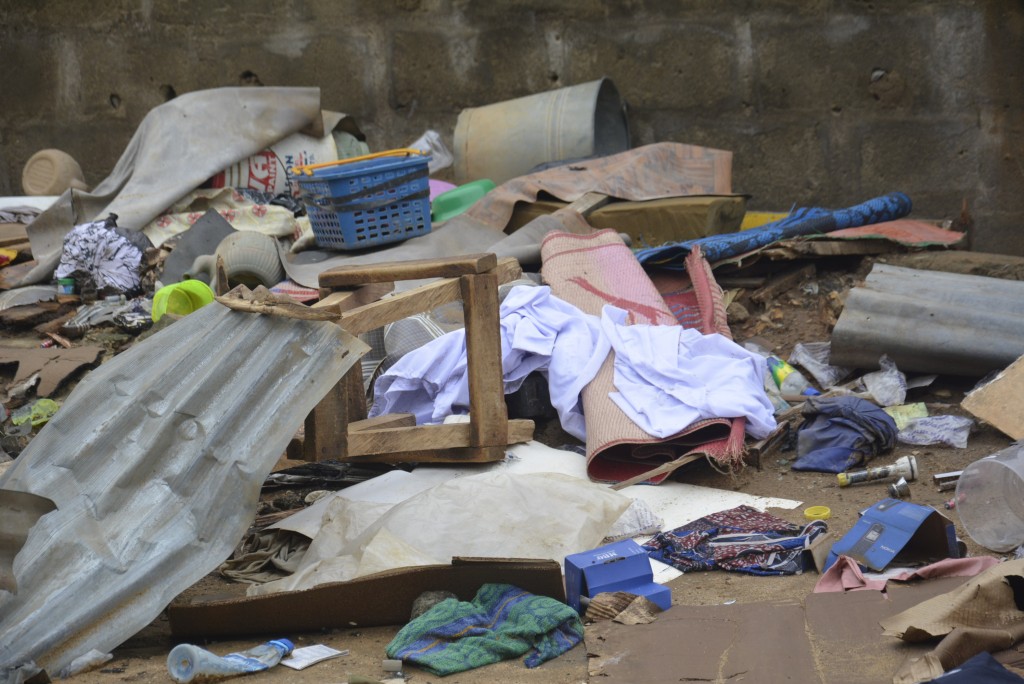 "The Hausas came back for the Yorubas. They burnt houses, killed people, injured many, destroyed part of the cemetery and even threatened to burn this school, with the students inside."
Arriving the cemetery, evidence of a clash was written all over its now-damaged gate, with mats and white linen meant for burial seen at the entrance.
FINALLY, A DROWNED BODY
We were informed by one of the residents who simply identified himself as 'Bobo' that the clash was "terrible". He said the Hausas eventually returned, after they were rejected, to burn Allen High School.
"I had to take the children to my house, when they insisted on burning the school. As we ran with the children, we had to call their parents to come for them at a location away from the school," he said.
"Some were crying, while other were laughing and excited, dem no know wetin dey happen. But as for the bodies, I don't know where they were eventually buried. Some say they were thrown in the river."
After waiting for hours at the highly polluted river, observing every movement and questioning residents, we finally saw a body (pictured) floating along with the gentle tide of the dirty river.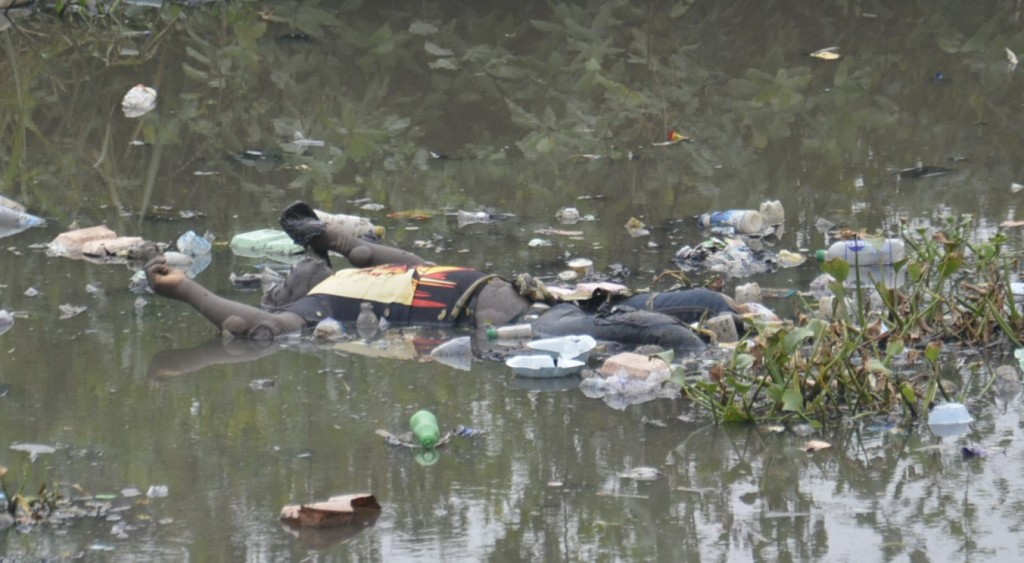 Residents were quick to agree that the body was that of one of the victims of the bloody clash, while men of the Criminal Investigative Department of the police, said it was case of drowning recorded elsewhere.
STEALING, BURNING, KILLING
Damilare Adeleke, a tailor whose shop was burnt, said the Hausas, with the support of the policemen, raided Agiliti I & II, stealing, burning and killing.
"These people have no respect for human life. The attacked us, and the police made sure we couldn't fight back. They wouldn't have gone past the bridge as our boys were ready to stop them.
"But they had the police on their side, most of the policemen deployed were Hausa; they just spoke their language and that was it. They claimed to burn our shops with everything inside, but that's a lie.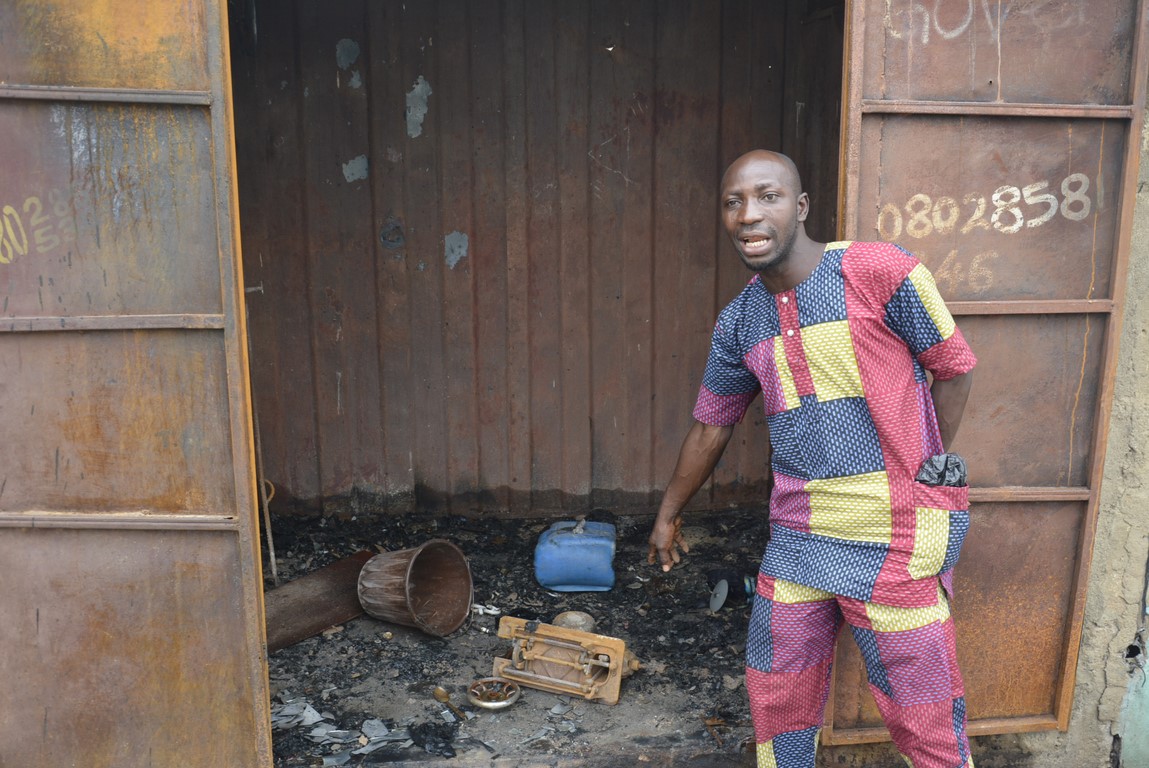 "They broke the shop, stole, then burnt the shop. As you can see, we can only see the remnant of one (sewing) machine. I had four machines, one automatic and others manual. Now we can only see one remnant.
"I have cried and cried this morning. Now, I'm down to zero, how do I even start again? I had a job of N120,000 from a man who just returned to the country for his wedding. All that is history."
Chukwudi also confirmed that the police supported the Hausas, adding that the four police stations closest to Mile 12 have Hausa men as "DPOs".
Many more houses were raided and businesses destroyed. This gas merchant lost his product and obviously his shop.
CHURCHES RAIDED
Virtually all the churches in the vicinity were raided by the Hausa men, resident said. Generators were burnt, drums torn, glass lecterns – popularly regarded as pulpit – were broken, windows were shattered.
On Oniyarin street, Church of God Mission, which is directly opposite a mosque, had its windows broken while only the burglary proof halted the angry mob from breaking in.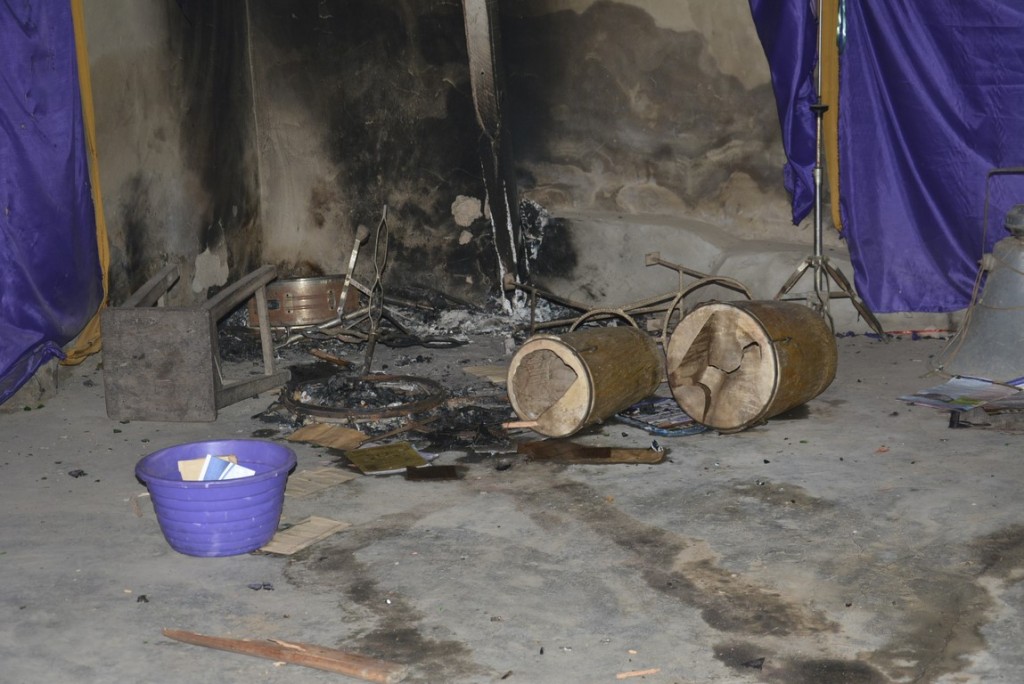 'AMBODE, YOU ARE NOT A GOVERNOR'
Akinwunmi Ambode, governor of Lagos state, has recently been applauded for his proactive leadership in the rescue of the three girls abducted from Barbington Macaulay Seminary, Ikorodu.
However, many of the residents believe the governor is not a true leader, especially when compared to his predecessors.
"You don't have a governor in Lagos. Lagos, you don't have a leader, Ambode is not a leader at all. God bless Fashola, this can definitely not happen under him," a woman in her early 60s yelled.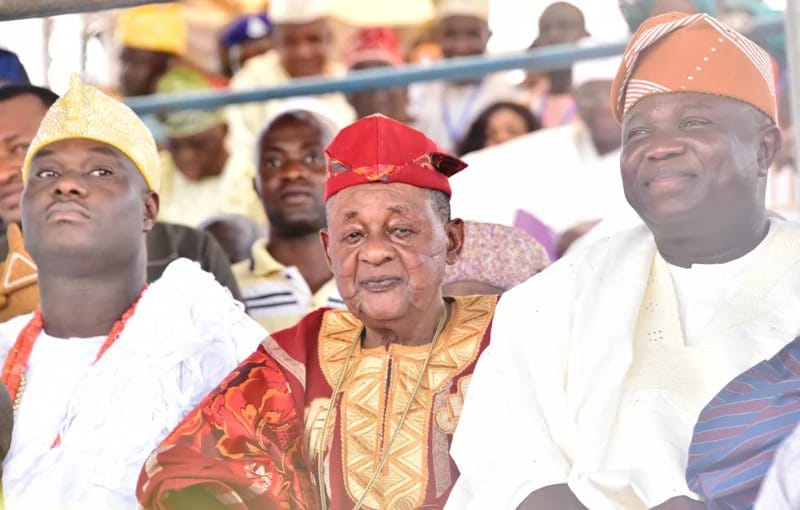 "Fashola kare loun, I heard your Ambode went for the coronation in Ibadan. Since all these happened, people killing themselves under you and you are attending coronation."
However, Ambode visited the communities involved on Sunday in company of Fatai Owoseni, the commissioner of police.
EMOTIONALLY-SCARRED CHILDREN
The distrust in Agiliti, Oniyarin and Aina area of Mile 12 was palpable. Children were angry, their innocent souls could obviously not stomach the situations around them.
All the children who spoke to TheCable said they wanted their parents to leave Mile 12 permanently.
"My brothers and I have been in school since Thursday. We could not come home; our teachers said our parent called them not to release us from school," Jomiloju Eleso said on Saturday.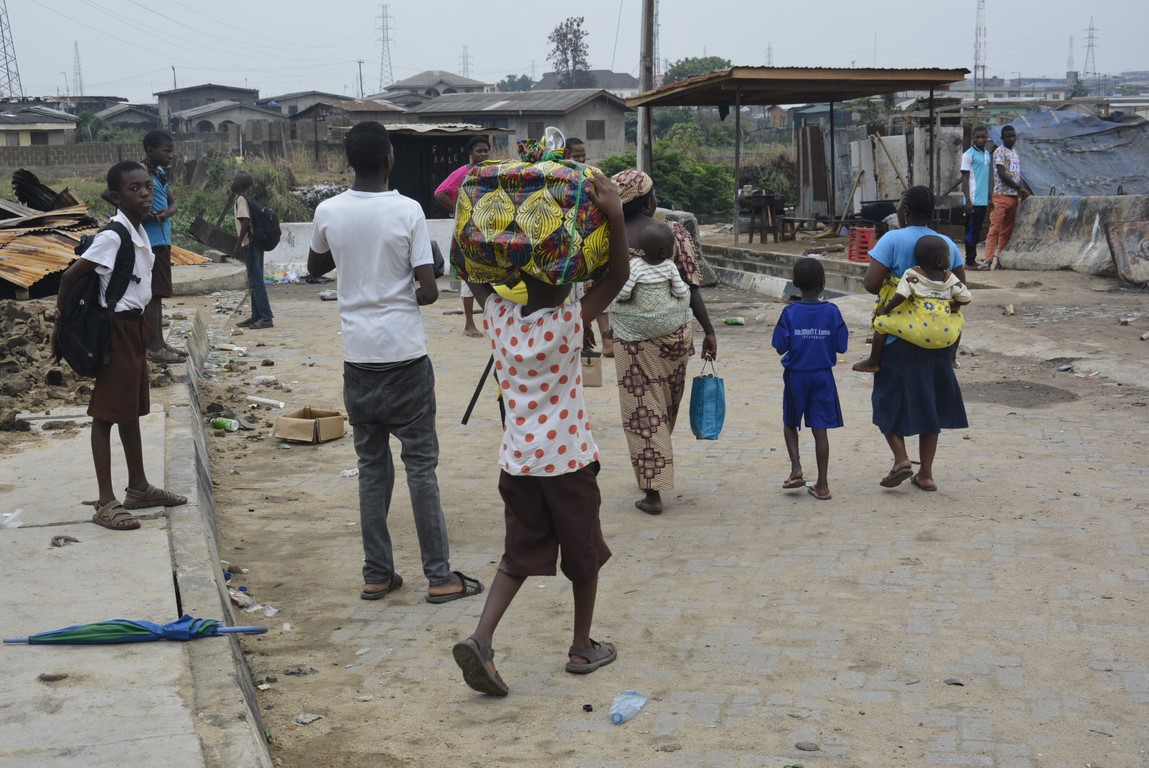 "This is what I wore to school on Thursday, and I still have it on. We came here to pack our things; we cannot stay here. They said it is not safe for us."
They were obviously afraid as they spoke, running off to get in and out of the environment littered with blood, bottles and debris of their once-upon-a-time dream homes.
WHILE THERE'S LIFE, THERE'S HOPE
Ireti Oyeniyi, head mistress of Glorious Destiny School, said the men Hausa men descended on her school to lynch primary school students but "by God's grace they left unsuccessful".
"They came here, there are rumours that they killed my students and burnt my teachers. Those are not true. We locked our gates and thought we were safe," she said.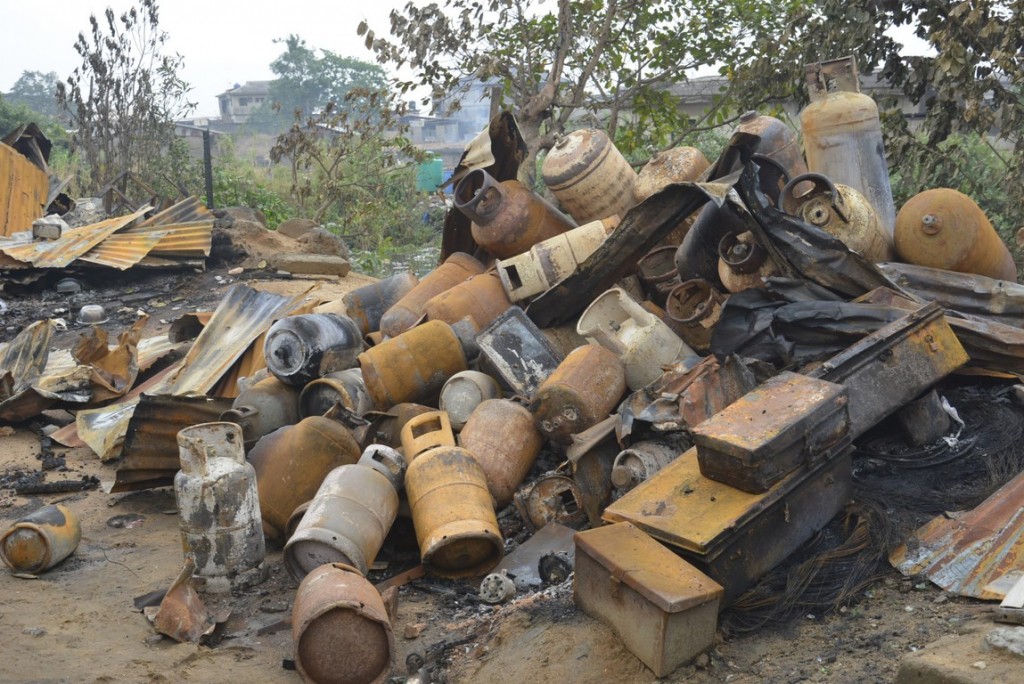 "Then they burnt the shops, destroyed everything outside. We had to take our children through the window into the other house.  Primary school children had to be aided to jump fences and climb ladder down on the other side.
"That was how God saved us. They eventually broke into the school and destroyed properties but when there's life, there's hope. We lost no lives."
Though the Hausa men, predominantly clustered at the entrance of Oniyarin street, refused to speak, Jibril Aminu earlier complained that the Yorubas killed their dead and refused them a resting place in their host community.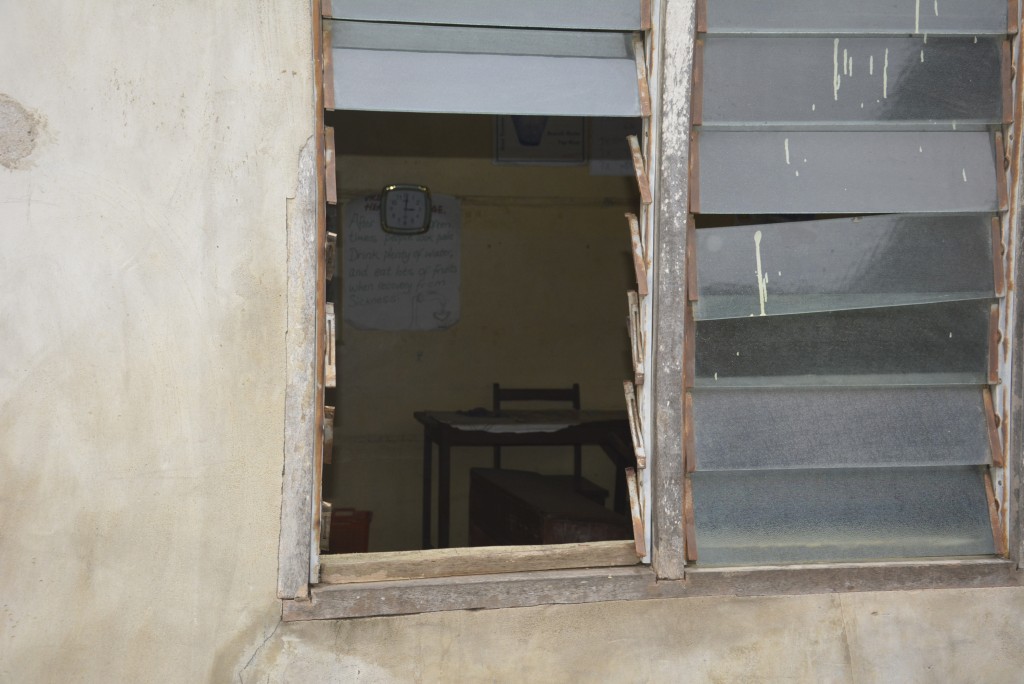 All the stories cannot be told, but relating with residents has shown a lot of anger, fear and pain in the hearts of those affected. Government and civil society organisations are advised to help with psychosocial support, after all, where there is life, there is hope.
Copyright 2022 TheCable. All rights reserved. This material, and other digital content on this website, may not be reproduced, published, broadcast, rewritten or redistributed in whole or in part without prior express written permission from TheCable.
Follow us on twitter
@Thecablestyle