The immediate younger sister of a woman battling latter-stage stage cancer has accused the husband of abandoning the woman and confiscating her property, while secretly marrying another woman.
Writing an emotion-laden piece to TheCable, she traced the couple's beginnings to a very happy wedding ceremony eight years ago, and expressed sadness that everything her sister worked for has now collapsed due to a combination of the sickness and her husband's indifference.
"It was a lovely morning on the 19th of May 2007 after a joyful traditional wedding the previous day, Mr. Kehinde Babatunde Ademuwagun [pictured] took our Sister Augusta Omotese to the altar at Living Faith Church, Badagry," Omon Arhebun, wrote on behalf of the family.
"Standing on God's sacred altar, he took an oath thus; I, Kehinde Babatunde Ademuwagun, take thee, Augusta Omotose Arhebun, to be my wedded wife, to have and to hold, from this day forward, for better, for worse, for richer, for poorer, in sickness and in health, to love and to cherish, till death do us part, according to God's holy ordinance; and thereto I pledge myself to you.
"In turn, Augusta promised to honour him, forsaking all others, to be faithful to him as long as she lived. That morning, she became Mrs. Augusta Omotose Ademuwagun with a dream of living happily ever after with her beloved husband. Augusta is a hardworking young woman who grew from working in the oil and gas industry as a contract staffer to pioneering a business, Eagles Wing Oil and Gas Ltd, Calabar.
"Being family-oriented, she co-opted her husband Kehinde into it. She was happy; her marriage was blossoming, the business was growing. Except for the blessing of children which was delayed, Augusta had the life she had dreamed and prayed for. She could not imagine a future without Kehinde, and she expressed their love as one by registering most assets in the name of her husband Kehinde Babatunde Ademuwagun.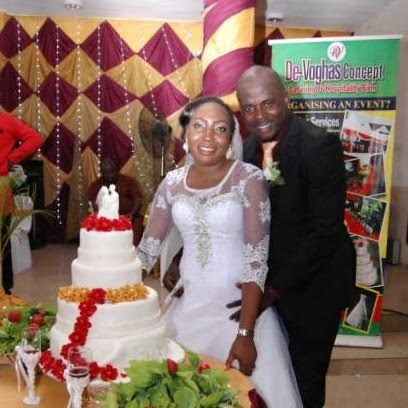 "All was well until January 2014 when we, her family, were informed by Kehinde that our sister Augusta was on admission at the Teaching Hospital in Ibadan. It was surprising to us, as they reside in Calabar. As the story unfolded, we learnt that our beloved Augusta was struck with cancer. A lump was discovered in her breast, a tumour was found growing in her brain. She hence underwent a brain and breast surgery without her family being informed. Kehinde had called us only when she further suffered a stroke and her condition worsened. We, her family, thereafter remained present to support her.
"Kehinde was there, too, as everyone held a prayer in their heart and lips for Augusta. The air around the hospital was thick with pain and fear that she might not survive. Augusta was a ghost of herself. Day after day, night after night, we kept vigil. Our sister Augusta was caught between life and death. Between the worries that filled the heart, Kehinde was observed to be mostly nonchalant, usually busy on his phone and looking unperturbed. These observations were dismissed as it is understood that people express or manage pain and grief differently. Perhaps this was Kehinde's way of managing his. But had we known that our observations were well informed… had we known…
SECRET MARRIAGE
"Augusta survived! She was discharged but very frail with many months of recuperation awaiting her. Only her sisters and brothers could assure her of round-the-clock care and support, hence we took turns to sit by her bedside. Kehinde was sparsely around. From calling every day, to every other week to every other month, he kept reducing contact and visit to his wife. There was no sense of care or concern for the pain and suffering his wife was going through. Despite his not appreciating her fight, Augusta's deepest heart cry was to recover and return to her beloved husband. Once in a blue moon, Kehinde will breeze in and out of Augusta's recovery home. On one of those visits, he came and left with all her mobile phones. Despite being asked to drop the phones, he said he will keep them since she was not receiving a lot of calls anymore. With that, he cut her off all common friends they have.
"While Augusta cried for better health to resume her life and marriage, news came to Augusta's family that Kehinde had secretly married another woman. Confronted with this news, Kehinde denied and his family corroborated his story. The advent of the Internet and social media has indeed made the world a small village. Alas, it was true, while his marriage with Augusta stands, Mr. Kehinde Babatunde Ademuwagun desecrated his vow to support his wife in sickness and her worse state. Taking all the sick woman had worked for all his life with him, Mr Kehinde secretly wedded one Miss Mary Paul who he now calls his lovely angel.
"It is perplexing how to break the news of this secret marriage – and the loss of all her assets – to Augusta, who is still struggling to get her health back. She still undergoes speech therapy as her speech is not so clear. She is under constant physiotherapy and can now move with crutches. We are hopeful she is getting better, but in her frail state, it saddens us that such news will destroy her permanently if it doesn't kill her. It is difficult to imagine her reaction and the pain this has been for her family who carry the news around like a burden. Where do we start? Who do we run to? Can justice be done? This feeling of helplessness is overwhelming but we trust the court of public opinion to empathize with Augusta and please ask her husband Kehinde why he wants her buried even before her death.
"To Mary Paul, as you read this, it is clear you are not ignorant of Augusta's existence and suffering anymore. We have reached out to you and you confessed that you know. It is clear that you have chosen to be blinded by desperation, dancing and glorying in a sick woman's misfortune. Telling you that the cane used in wiping the first wife also awaits the second wife is not important. Today, her pain is your gain, you have chosen to find happiness in Augusta's ruin, but it is only a matter of time. While it tarries, we pray for you a good prayer, may your God make happen for you, all that you make happen for poor Augusta.
"Kehinde, beneath the sun, there is nothing hidden. Before God and all honourable people, you pledged yourself with a vow to hold Augusta, for better, for worse, for richer, for poorer, in sickness and in health, to love and to cherish, till death do you part, according to God's holy ordinance. Under whose ordinance have you made this second vow to Mary Paul? Relationships are tested; it is for such rough times as when our partners fall sick that our true love is measured. But you lack honour as a man and as a Christian. You have been weighed, measured and have been found wanting. You can only trade fake oaths now. While standing at the altar with Mary Paul and pledging your second oath, did your failure to care for your sick wife who still waits for you not haunt you? When you dip your hands in Augusta's purse to spend these days, do you honour her sweat and labour or care how she feeds? When you kiss Mary do you not see Augusta? How does a haunted man like you sleep with the memories of his victim engraved in his heart and life? You have sold your rest Kehinde.
"We seek no sympathy because Kehinde has dishonoured his marriage vows. No, this maltreatment of women is commonly done in Nigeria these days with impunity. We may be hurt about the way and the time he chose to do this, but we are more offended because Kehinde has without honour taken away all Augusta has worked for and denied her access at a time the poor lady needs it most. Today, she lives at the mercy of her sisters, now her life hangs on the hope of a marriage, which, in truth, is shattered.
"Dear brothers and sisters reading, we have no choice than to bring this to the court of public opinion, while you all take a leaf from Augusta's sad story, perhaps you can appeal to Mr. Kehinde on 08033959018 or 08095778222 (or Mary Paul on 07033404871) to choose the part of honour and return what is left of Augusta's sweat to enable us support her through this time. We ask that you all pray for Augusta when you can that God grants her healing and restores all that the locust and cankerworms have taken."
ALLEGATIONS DENIED
However, when he was contacted, Ademuwagun denied all these allegations, saying he was the one who set Augusta up in business, and that he had sold virtually all his belongings because of her ill-health.
"I got married to their sister in 2007, but the issue is that when we got married, she was not truthful to me. She didn't tell me the problems in their family. They had two  cancer cases before I married her.
"Those cancer cases happened and I was not aware, and I went into the marriage. For about seven years, no child. I was taking her up and down, even for fibroid, before the cancer came up in her. Later, she opened up to me when the thing had reached Stage 5.
"I took her abroad, I took her to the UK, spent money on her, sold my property. I took her to UCH Ibadan for final operation. Even then, she was feeling bad about the family for leading her not to tell me. At the end of the say, the thing now bounced back on her. I have been troubling with that cancer everyday.
"And in everything I did, the family did not appreciate me for once. A man from a family of eight, above 40 years, staying with a woman for almost eight years without any child and still walking from one place to another; they never appreciated me.
"The fact is that when she had this cancer, she was even hiding it away from me in the house. I had to force her when the thing was serious and the thing had moved from Stage 1 to Stage 5.
"Still I stood by this woman. I did everything possible so that she would not die. I took her to UK with my own money. I have evidence of all those things with me in the house. I took her to different hospitals here in Nigeria and we thought the breast cancer had been resolved, not knowing that the thing had moved to her brain.
"I still went on, took her to UCH; the cost in UK and US was too much and I didn't have that kind of money because I had sold virtually everything I had, on her. It was when the thing came to the brain that the family was involved, because she told me not to involve her families because of what they did to her. She had been telling me not to have any contact with her family if not for this.
UNGRATEFUL FAMILY
"As it is, my brother, as a man I did everything possible so that this woman should be alive. Do you know that instead of the family paying me for good, they were paying me for bad. They went on… what they are after is that the property I have in Calabar is their sister's property, that I stole their sister's money, I did this, I did that. They are not even concerned about the woman's health. I went there the last time… that was in June. I go there every time, from Benin, from Calabar, to Warri. There was a day I had accident on the way; God saved me.
"I go there every time, I send money to them every time. They refuse to pick my calls. When they took her from Warri to Benin, I went there. I wanted to have a one-on-one talk with my wife, they refused me. My own wife that I married, they said I should talk with her in their presence. I was highly mad. I could not have a private talk with my wife any longer? They refused me. That was when I left that place in anger, that was early June this year and I swore that I will not set my feet in that place again.
"All I heard next was blackmail here and there, calling my friends, calling my people that I abandoned her, that anytime I come there, that she will not walk, that I have a hand in her sickness. The sister even sent a text to my new wife that my new wife snatched somebody's husband, that my new wife did this and that.
"I became angry, I even had to call my sister that these people are going too far, and I'm a man. The Nigerian constitution does not say a man should marry one wife. I have the right, with a reasonable doubt, to marry more than one wife. But the family will never leave me alone."
Asked if it was true that he seized his wife's phone, as alleged by the family, he said: "That phone, I bought it for my wife. My wife cannot talk on phone. The operation affected her brain. Do you understand? She cannot talk, I know her very well. Do you know that these people, they will go to that phone, pick numbers of people close to us in Calabar and start blackmailing me. I had to confront the sister that this is what somebody said; the sister denied it. The person now called her back, but she denied it.
"When I went there, the sister that my wife was staying with even said I could take the phone. When it dawned on them they started pressurising me to bring the phone. I bought the phone with my money and gave it to her and I have the right to collect the phone.
"Initially, I voluntarily left it there so that if I want to call her once in a while… but when I noticed that if I'm calling, the phone is always switched off, then there is no point leaving the phone there. I now realised that they are using it to blackmail me here and there."
Similarly, he denied that he had been living off his wife's earnings, saying: "They allegations are false allegations, my brother. How can a woman put me in business? How can I sit down in the house for how many years and a woman will put me in business. Their sister had nothing she was doing when I married her.
"I have people in Calabar that you can ask questions. They are so many there. She was like a non-staff assistant to one Mr. Sunday Sunny in Oando. She was sitting down there doing nothing. When I married her, I was working at Conoil. When I I left Conoil, I entered the business through one man called Peter Agbabun in Oando.
"Peter introduced me to Oando, they now took me as their trading and supply agent. The work was too much for me, so I had to call my wife to come and join me. I had to call one other guy called Chima; Chima is in Calabar; that was how we started the business.
"It is because their sister gave them the wrong information that she was the one that got me into the business, I was so mad; all those things are proper lies."
He confirmed that he had married another wife despite not divorcing Arhebun, saying he has been acting within his rights.
"I did not marry my wife in the court, so there is nothing like divorce. I married her in the church. If I want to divorce a wife, it is not the woman that will tell me before I divorce her… and I am a man of integrity; I cannot do that with her condition.
"Even if am not going to marry her again. I can take my decision to marry another wife and she will still be my wife. It's not a matter of me divorcing her. I did not marry her in court. I repeat, she is still my wife. I did not divorce her and I did not say she is no more my wife. They don't know the gravity of what they are doing."
Asked when he married his new wife, Ademuwagun said: "Bros, I don't think I have answer to that question. I am married, I am married."
Copyright 2022 TheCable. All rights reserved. This material, and other digital content on this website, may not be reproduced, published, broadcast, rewritten or redistributed in whole or in part without prior express written permission from TheCable.
Follow us on twitter
@Thecablestyle