"I ran out of my room to help my brother, who is asthmatic. My parents were also unconscious, so I called for help and the neighbourhood came to our rescue but I have lost everything, including my credentials, to that fire. I am so confused right now."
These were the words of Jinadu Oluwashina, a biochemistry graduate of the Bells University of Technology, whose house was razed by fire from spill from a petrol tanker that tilted off Ojuelegba overhead bridge on Saturday.
The tanker vehicle carrying about 33,000 litres of PMS had its content spilled through a manhole and was channelled into a canal that leads to the back end of Jinadu's home.
Abayomi Jinadu, 60, a chattered accountant who is Shina's father, looked so devastated by the incident, telling TheCable: "We don't really know what caused the outbreak but I understand there was an oil spill from a tanker.
"I didn't have time to find out what happened because I was very unconscious till I got to the hospital.  All I know is that we have lost all our belongings, including my son's academic certificates," he said.
"Shina's brother (Oluwasanmi), my wife (Rita) and I were immediately rushed to Randle general hospital by officials of the Lagos State Emergency Management Agency (LASEMA) to receive treatment."
TheCable visited the burnt building on Allen street and found that the inferno spared no item.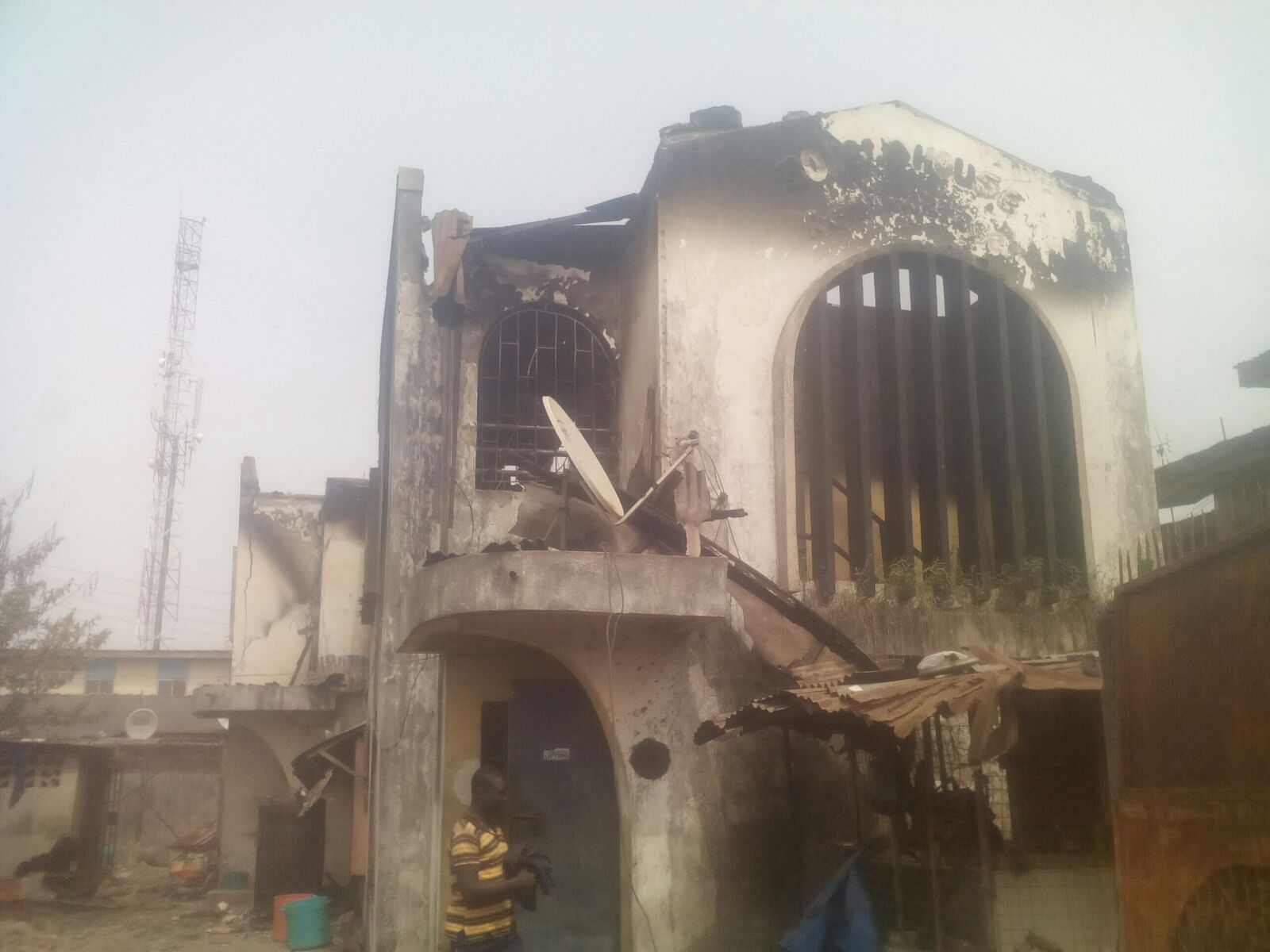 Shina called on the government to come to his rescue and help him regain his life.
"I am a brilliant student and my parents can testify to that. There is no way I can make a living without my certificates to prove I am a graduate in my area of study. I have lost everything to the fire," he said.
"I believe the government can come to my rescue and help my family. My parents have spent so much in training me in school. This is the time they look forward to seeing me do exploits and succeed."
Abayomi also made his plea while thanking LASEMA for their effort.
"I want to thank LASEMA for coming to our aid in this difficult situation. They have also promised to take us to their relief camp at Iyana Ipaja. However, I want to beg the government to do something about my family's shelter as soon as possible," he said.
Some other residents in the area told TheCable that they would no longer condone mishaps from articulated trucks.
Aisha Musbau, a roadside trader, said the government needs to enforce the law against articulated trucks.
"This is getting too much. We are no longer safe here from these trucks. The government needs to do something about them," she said.
Saheed Bamigbola, a motorist in the area, lamented that he lost his vehicle to similar incident in 2013.
"The government is finding it difficult to stop these vehicles from taking this bridge maybe it's because of the levy they collect from them. In 2013, my bus was crushed by a container and I escaped by luck. This has to stop," he said.
Copyright 2023 TheCable. All rights reserved. This material, and other digital content on this website, may not be reproduced, published, broadcast, rewritten or redistributed in whole or in part without prior express written permission from TheCable.
Follow us on twitter
@Thecablestyle