Lekan Shonde, the man who allegedly killed his wife, Ronke, has accused her of repeatedly cheating on him, saying she denied him of sex for three months.
Lekan, whose wife was found dead on Friday morning at their Egbeda residence, said he regretted marrying his wife as even his dead mother warned him against her.
"Since I married my wife eight years ago, she has never bought anything into the house. I gave her N5,000 on Saturdays and N3,000 on Tuesdays for soup. I also gave her money to make her hair," Shonde told PUNCH.
"She was working with GTB as a marketer, but she got sacked three years ago. For that period, I was the one feeding her and taking responsibility for everything in the family. I would wash her pants, bathe the children and buy foodstuffs in the house. She later got a job with a publishing company owned by her uncle.
"But my wife changed sometime in March, when she started dating the general manger of a publishing company. My wife was going to the office from Monday to Sunday and she wasn't going to church again, all because of this man. She called him 'Eyitemi' (My own).
"Last week Friday, she went to Abuja and came back on Monday. She never told me that the lover was there with her. I learnt later that the lover was there and they slept together in the same room for  four days.
"When she came back, she didn't know I was inside the house. She started talking with the man on the phone that she really had fun with him and I didn't know how to make love.  She again said her private parts were paining her."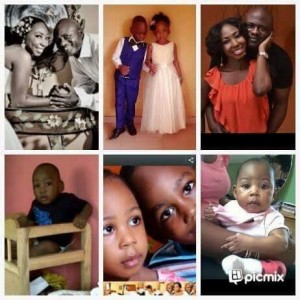 Neighbours say the couple's marriage had been violence filled with Lekan often beating up his wife.
The violence eventually culminated in the death of Ronke, mother of two children, who were left beside her already bloated body before their nanny and other neighbours found the corpse.
He said there was a money related argument on the night of his wife's death.
Shonde said he was angry because she had refused him sex in three months, he "pushed her hand away" from him  and she fell on the stairs.
The man said he thought she was pretending till the following morning when he realised that she was dead .
He also denied locking his children in with his wife's corpse, saying it was his son who did.
Lekan said he had always taken care of his wife but was really upset with her cheating.
Ronke's only surviving sibling, Bolatito, said their mother had just arrived Lagos from Ilorin, Kwara state, and does not want to talk about her child's death yet.
She said Lekan has threatened to commit suicide, but her mother asked him not because she had forgiven him.
Copyright 2023 TheCable. All rights reserved. This material, and other digital content on this website, may not be reproduced, published, broadcast, rewritten or redistributed in whole or in part without prior express written permission from TheCable.
Follow us on twitter
@Thecablestyle